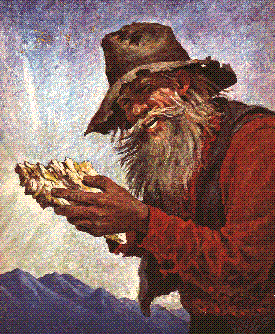 Gold Prospecting
Arizona Association of
Gold
Prospectors
The AAGP is THE recreational GOLD prospecting and mining club in Arizona, home to the Grand Canyon. If you enjoy finding GOLD or desire to learn how to find it you will find we are an exciting and very active prospecting club that is dedicated to bringing fun, entertainment and education prospectors of all kinds. We do this through placer GOLD prospecting and mining activities for both individuals and family members. Your AAGP club chapter is dedicated to providing it's members with monthly meetings, prospecting and mining events such as outings and common digs, and great local mineral claims to prospect on. If you enjoy or want to know more about digging, panning, dredging, sluicing, highbanking, drywashing, NUGGET shooting, rock or mineral collecting or you simply enjoy our beautiful outdoors then you need to check us out! As an AAGP member you can be assured that there will always be plenty of fun and excitement to be had, prospecting to do, and GOLD to be found. AAGP members are able to prospect and mine on some of the best mining and mineral claims in the "golden triangle" of Arizona with the majority of those only 1 to 2 hours drive of Phoenix, Glendale, Scottsdale, Mesa and even Tucson! We are also the only GOLD prospecting club in Arizona to offer it's members year-round daily access to a commercial placer GOLD mining operation! The commercial placer mining operation is located in the shadow of Red Picacho Volcano in the junction of the Wickenburg and Hieroglyphic mountains near Wickenburg and Morristown. Other clubs may offer a weekly commercial operation access, but it is usually only during the summer for 1 to 8 weeks and at an additional $1000 - $3,000 investment per week above and beyond your membership dues! Both are wonderful, fun opportunities, but ask yourself how much is the other club's membership really costing you for the activities you really want to be able to enjoy? AAGP club members enjoy great opportunities year-round at a commercial placer Gold mining operation! If you are interested in GOLD sales or buying, we can give you the information on the where and what so you can buy the most for the least. For those interested in learning out to find GOLD like the professionals do we offer tours and prospecting adventures and lessons. Experience the thrill of the (G)Old West as an AAGP club member. These exclusive opportunities are only available to prospectors through the AAGP! When you join a GOLD prospecting club, be sure it's the AAGP and be sure you make it a "Gold Getter" membership!
---

GOLD! WHAT A BEAUTIFUL SITE!
Always a joy to see in your pan.

THERE IS GOLD IN THEM HILLS!
The land around the operation site is
beautiful and majestic! Desert nights
are more so for stargazers!


THE GOLD'S IN THE GRAVELS!
Processing the gravels to extract GOLD. Now this is the funest and easiest way around to find GOLD!

ADVANTAGES OF YOUR AAGP MEMBERSHIP

The AAGP "Basic", "Gold-Getter" and "Platinum" memberships give you access to the only club-based year-round commercial placer GOLD mining operation in the world!

With your AAGP Membership you will receive the following benefits:

1. YOUR personal 15%-20% discount on all products offered by vendor members including famous Gold King prospecting equipment.

2. YOUR personal minimum 15%-20% discount on all Special Events hosted by any local AAGP chapter in Arizona. All members also have access to many AAGP events including Common Operation GOLD Digs, Nugget Fest Commercial Common Digs, Splash Bash Common Digs, Nugget Shootouts, Pot Luck Dinners, Treasure Hunts, educational and entertaining GOLD Prospecting Seminars & Classes and Club Outings and local Chapter Meetings.

3. YOUR personal access to great mining claims around the state to prospect and YOU GET TO KEEP ALL THE GOLD THAT YOU FIND! AAGP claims extend from the flowing waters of the Agua Fria River at Cordes Junction across the Bradshaws to the Wickenburg/Morristown area down to the Tucson/Continental area, the Golden Triangle of Arizona.

4. YOUR personalized AAGP Name Badge and AAGP Claims Guide with easy to read maps and directions to all of the club claims. The Claims Guide will help you to make sure you are on the right claims to help avoid any unexpected confrontations in the field.

Receive all of the above plus much more with the new PLATINUM Membership for only 27.4 cents a day. Less than the cost of a can of soda water!



Learn more about the AAGP Memberships.






WHAT A NICE CLEANUP!
No matter what it's size the luster of
GOLD is always beautiful to see.
---
THE FAMOUS AAGP
COMMON
GOLD
DIG
Sign up for the AAGP COMMON DIG
---
---
---
PURCHASE PLACER GOLD ONLINE
---
The AAGP Pan and Poke Online Newsletter!
Click here to read the AAGP Pan and Poke
---
WHILE YOU'RE HERE SIGN OUR GUEST MAP TOO!

---
The AAGP's Favorite Links
THE AAGP PRESENTS DESERT JEWELS!

WANT TO LOSE WEIGHT NOW?
INCREASE PROPER NUTRITION, VIRILITY OR SKINCARE?
Click Below To Find Out How!
THE AAGP SPECIAL OFFERS PAGE!
---

---
AAGP Rules And Regulations
http://azgoldpros.mybravenet.com
---
AAGP website last updated on:
Copyright © 1995 - Arizona Gold Prospecting All rights reserved.