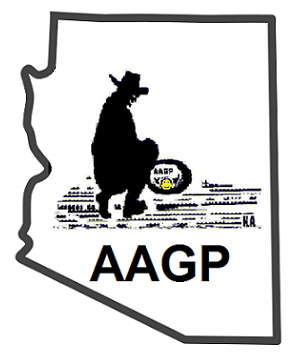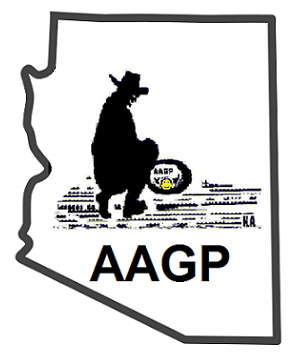 A A G P
ARIZONA ASSOCIATION OF GOLD PROSPECTORS
RULES AND REGULATIONS
1. "BASIC" AND "GOLD-GETTER" MEMBERS MUST PAY THEIR ANNUAL MAINTENANCE FEE BY THE FIRST OF THE MONTH OF THEIR ANNIVERSARY DATE WHICH THEY AGREED UPON AT INITIAL MEMBERSHIP. UNPAID FEES AFTER THE FIRST DUE DATE WILL RESULT IN IMMEDIATE LOSS OF ACCESS TO THE CLAIMS AND MEMBERSHIP TERMINATION AFTER SIXTY(60) DAYS OF UNPAID MAINTENANCE FEES!

2. "PAID-UP" MEMBERS WILL RECEIVE ALL PRIVILEGES AVAILABLE BASED UPON THEIR TYPE OF MEMBERSHIP IN THE AAGP.

3. ALL MEMBERS SHALL WEAR AND WILL BE IDENTIFIED BY A SPECIAL ARIZONA ASSOCIATION OF GOLD PROSPECTORS CLUB MEMBERSHIP BADGE WHILE PROSPECTING ON THE CLAIMS. THERE WILL BE NO EXCEPTIONS TO THIS RULE! ANYONE FOUND PROSPECTING ON THE CLAIMS WITHOUT THIS BADGE PROMINENTELY DISPLAYED WILL BE SUBJECT TO BEING ESCORTED OFF THE CLAIMS!

4. ALL MEMBERS SHALL RECEIVE AN ANNUAL BADGE EACH YEAR PROVIDED THEY HAVE PAID ALL DUES/FEES FOR THE NEW YEAR.

5. ONLY A SPOUSE AND/OR CHILDREN UNDER THE AGE OF 19 WILL BE ALLOWED TO PROSPECT ON THE CLAIMS WITH THE MEMBER. A ONE MONTH BASIC VISITOR PASS MAY BE PURCHASED BY MEMBER'S GUEST(S) FOR $75.00.

6. MEMBERS WILL MAINTAIN PROPER CONDUCT AND OBSERVE ALL AAGP, STATE OF ARIZONA, FOREST SERVICE, AND BLM RULES AND REGULATIONS. CAMPING IS LIMITED TO TWO WEEKS IN ANY 90 DAY PERIOD AS PER FOREST SERVICE AND BLM RULES. FIREARMS MAY ONLY BE WORN IN A SAFE MANNER WHILE ON THE CLAIMS AND USED ONLY FOR PROTECTION FROM SNAKES ETC! MEMBERS SHALL IMMEDIATELY REPORT ANY DANGEROUS SITUATIONS TO THE AAGP CLUB STAFF AND THE PROPER AUTHORITIES!

7. ALL MEMBERS ARE EXPECTED TO HAVE THEIR OWN PROPERTY AND CASUALTY AND HEALTH INSURANCE TO PAY FOR ANY ACCIDENTS THAT MAY OCCUR WHILE THEY ARE ON THE CLAIMS AS ALL MEMBERS HAVE SIGNED A STATEMENT ACKNOWLEDGING THE POTENTIAL RISKS AND DANGERS AND ACCEPTING FULL RESPONSIBILITY FOR THEIR ACTIONS AND THOSE OF THEIR FAMILY AND GUESTS AS WELL AS ANY NON-MEMBERS ACTIONS. EACH MEMBER IS RESPONSIBLE FOR THE SAFETY AND WELL BEING OF THEMSELVES, THEIR FAMILY, GUESTS AND OTHER PERSONS WHO MAY BE USING THE CLAIMS WHILE THEY ARE THERE.

8. THE CLAIMS WILL BE USED FOR INDIVIDUAL AND GROUP PROSPECTING ACTIVITIES. NO MEMBER MAY PROSPECT IN THE "DESIGNATED" GROUP ACTIVITIES AREA UNTIL DECLARED OPEN TO PROSPECTING BY THE DIRECTOR IN ORDER TO PROMOTE GROUP ACTIVITIES WITHIN THE CLUB. REMEMBER TO BACKFILL ALL HOLES THAT YOU DIG PRIOR TO LEAVING THE CLAIM.

9. SPECIAL GROUP PROSPECTING EVENTS WILL BE SCHEDULED FOR CLUB MEMBERS AND GUESTS AND WILL BE CONDUCTED BY THE MANAGEMENT AND MEMBERS ON THE CLAIMS IN THE GROUP ACTIVITY AREAS OR OTHER APPROPRIATE AREAS AND OPEN TO MEMBERS AND CLUB GUESTS. MEMBERSHIP DISCOUNTS WILL APPLY FOR MEMBERS & IMMEDIATE FAMILY ONLY.

10. NO MEMBER MAY SALE, CONVEY, OR LOAN THEIR MEMBERSHIP TO ANYONE ELSE EVER!

11. ALL GOLD FOUND BY INDIVIDUAL MEMBERS PROSPECTING IN THE NON-COMMERCIAL AREAS SHALL BE THEIRS TO KEEP.

12. ANY DISPUTES(S) AND VIOLATIONS WILL BE HANDLED BY THE DIRECTOR AND/OR THE MANAGEMENT STAFF. THEIR DECISION ON MATTERS REGARDING THE CLAIMS SHALL BE FINAL, INCLUDING SANCTIONS AND EXPULSION OF MEMBERS FROM THE CLAIM AND/OR CLUB FOR EXTREME AND/OR REPEATED VIOLATION(S) OF THE RULES AND REGULATIONS.

13. IF AND WHEN THE CLAIMS CONTRACT BETWEEN THE OWNER(S) AND THE AAGP TERMINATES OR THE OWNER(S) OF THE CLAIMS LOSE HIS/THEIR LEASE, MEMBERS ACCESS TO THE CLAIMS INVOLVED WILL CEASE AND MEMBERS WILL BE NOTIFIED. WHENEVER NEW OR ALTERNATIVE CLAIMS ARE MADE AVAILABLE FOR THE MEMBERS USE THEY WILL BE NOTIFIED.

14. FAMILY PETS MUST BE KEPT ON A LEASH NOT TO EXCEED 10 FEET AND KEPT UNDER CONTROL WHILE THE OWNERS PROSPECT.

15. MEMBERS ARE RESPONSIBLE FOR PROPER DISPOSAL OF THEIR DEBRIS(GARBAGE, PET FECES, R.V. SEWAGE ETC.). PACK IT IN, PACK IT OUT! CAMP FIRES ARE TO BE PROPERLY EXTINGUISHED. PLEASE BE COURTEOUS TO OTHERS USING THE AREA FOR NON-PROSPECTING RECREATIONAL USES AS ALLOWED BY LAW. THEY MAY RECREATE, BUT THEY MAY NOT INTERFERE WITH ANY PROPER MINING ACTIVITIES CONDUCTED BY THE AAGP OR IT'S MEMBERS. REPORT ANY VIOLATIONS IMMEDIATELY!

16. THE AAGP MINING NOTICE AND ANY NECESSARY PERMITS ARE TO BE CARRIED AND AVAILABLE FOR OFFICIAL INSPECTION WHEN PROSPECTING ON ALL THE CLAIMS. ALL MEMBERS MUST FOLLOW THE MINING NOTICE GUIDELINES FOR PROSPECTING ON THE CLAIMS. NO COMMERCIAL EQUIPMENT SHALL BE USED EXCEPT BY AAGP CLUB STAFF!

17. INDIVIDUAL PROSPECTING IN THE COMMERCIAL OPERATION AREA IS STRICTLY PROHIBITED!

18. ALL GOLD FOUND WHILE WORKING ON THE COMMERCIAL OPERATION MUST BE TURNED IN TO THE OPERATION FOR APPROPRIATE SPLITTING!

19. ALL MEMBERS WORKING THE COMMERCIAL OPERATION MUST OBEY ALL PAYDIRT MINING COMPANY RULES & REGULATIONS.

20. AAGP DIRECTORS RULE: BE SAFE, HAVE FUN AND FIND LOTS OF GOLD OUT THERE. MAY YOU PAN ALWAYS FLOW WITH GOLD!