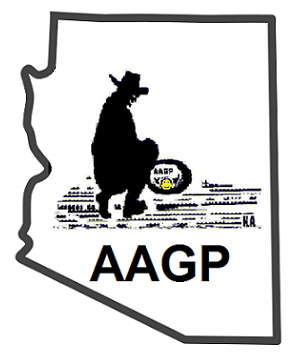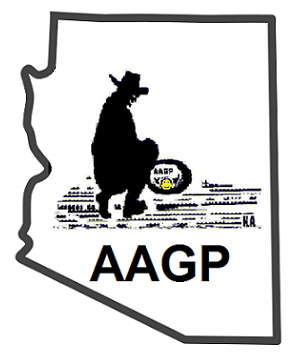 ARIZONA ASSOCIATION OF GOLD PROSPECTORS
PROUDLY PRESENTS
ARIZONA GOLD PROSPECTING ADVENTURES AND LESSONS
---
CONGRATULATIONS TO CHARLES FISCHER!

Charles, who happens to be an expert fishing guide in Minnesota, recently participated on one of our Arizona Nugget Hunting trips through our Prospecting Adventures and Lessons where he found a big beautiful GOLD Nugget with a quartz matrix! Amazingly he was a total beginner but while putting into practice what he learned in his private lesson he found a Nugget anyone would be proud to have. Hopefully with his new prospecting knowledge he will find many more in his future prospecting endeavors. Wouldn't you like to know how to find Nuggets like this?
Lately everyone has been finding nice GOLD on the lessons and most have found nice NUGGETS too!
---
Have you ever wanted to go on a GOLD Mining Adventure or prospecting lesson?
Have you ever wanted to learn how the professionals prospect for GOLD?
Well now you can do either or both!
In August 2020 GOLD hit an all time high of $2,078.44 per ounce!
With prices like this, can you afford not to learn how to find more?
| | |
| --- | --- |
| Beautiful Winter Morning | High Noon On The Claims |
| Full Moon Rising To The North | January 16, 2015 Sunset To The South |
| 2 Hours of Claim Testing June 6, 2015! | Close up it looks even prettier! |
UPDATE! - December 2019 was one of the wettest December's in ten years. December 2021 also turned out to have a good deal of rain as well. This unusual amount of rain in December helps move a lot of GOLD bearing gravels and members who are out and actively prospecting are finding a lot of newly uncovered GOLD out on the claims!
In 2021, January through March was a wonderful, warm and sunny beginning to the new year making it great for being out on the claims. We look forward to having the same great weather this year. As always, many of our Winter members are having a great time here in the warmer sun. The GOLD they are finding gleams beautifully in the nice warm sun! Last April a new member from Alaska found 3 beautiful nuggets in 7 hours of work over 2 days that paid for his new GOLD Getter membership! So if you want to enjoy the sunny warm days prospecting beautiful GOLD, join the AAGP now and come on down here and get out where the GOLD flows like the warm sun! You too can be enjoying this wonderful sunny and nice weather with us while you find and take home the GOLD!
The AAGP is now offering Private Professional GOLD Prospecting Adventures and Lessons in Arizona. Now, with the assistance and guidance of a master prospector, you can live the adventure of a lifetime, just like they did in the Old West. Of course, you will have all the advantages of today's modern conveniences and none of the hardships found in the old days. The gunslingers, bandits and Native Americans are no longer a threat to modern GOLD prospectors, but you can still visit the same areas that the old prospectors went to find their fortunes. You can drive your vehicle to most locations within an hour from Phoenix and modern equipment removes most of the physical burdens and enhances the recovery of GOLD! Your prospecting adventure or lessons can include any of the following areas:
1. Basic, Intermediate, or Advanced Prospecting Skills
2. Drywashing in the desert
3. Dredging techniques in streams and rivers(Incurs an additional fee)
4. Highbanking techniques along streams and rivers(Incurs an additional fee)
5. Nugget Hunting/Shooting
6. Crevicing for Nuggets and Placer GOLD
7. Claims research and staking.

Each of the above adventures or classes is designed to teach you how to have the best chance at successfully finding GOLD every time you go looking for it. After you complete one of the GOLD prospecting lessons, you will know where to look for and how to recover GOLD so that you can come home with the GOLD! All necessary equipment will be provided for your lesson(s) or you can be trained on your own personal equipment should you prefer. For less than the cost of a professional fishing guide, you can enjoy the thrill of a lifetime and learn how to keep on enjoying it on your own. Lessons are daylong and begin between 8 and 9 AM and usually end between 4 and 6 PM depending on many factors. If you have ever wanted to learn how to enjoy any of the above areas, please feel free to contact us via voice or fax at (623) 934-6882, or you may email us at the following address: . We will be happy to answer all of your questions.*(We reserve the right to refuse lessons and/or services to anyone.)

Please note, in order to participate in Professional Private GOLD Prospecting Lessons, you acknowledge that you will be required to read and agree to sign a Hold Harmless Agreement prior to your participation in the event. This is a legal requirement for participation and refusal to sign will result in your not being able to participate and immediate termination of services. No refund will be given as services were made available to you and you, by not signing the Hold Harmless Agreement, have decided not to participate as per this notice and you agree to forfeit all monies paid for the event.
MAKES A GREAT BIRTHDAY OR HOLIDAY GIFT!
Click below to pay online or call (623) 934-6882 to charge your professional private GOLD prospecting lesson.
DURING THE HOT SUMMER MONTHS NO LESSONS WILL BE GIVEN IN JULY & AUGUST!
PURCHASE YOUR GOLD PROSPECTING LESSON(S) AND LOCK IN YOUR DATE(S) BY CLICKING BELOW NOW!
Lesson cost for all dates between October 15th and May 15th is just $300.00 per day for one person. Lesson cost for all dates between May 16th and June 30th and September 1st to October 14th is just $350.00 per day for one person. Click on the appropriate date Buy Now buttons to purchase the date(s) you want and then contact us to confirm your date(s). S&H will be added into the payment below and to cover cost of CC processing(does not apply to cash, money order and Zelle payments). Discounts may be given for multiple parties on the same date. Contact us for pricing.



October 15th To May 15th

$300.00





May 16th To June 30th

$350.00





September 1st To October 14th

$350.00


All major Credit Cards are accepted!
---